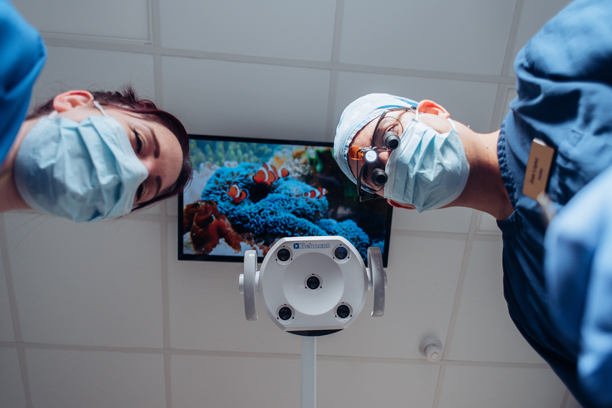 Preventative services
Maintain good oral health by stopping disease before it takes hold in your mouth. Regular exams (including diagnostic images such as x-rays) and professional teeth cleanings are a cornerstone of prevention. Your dentist may give you detailed instructions to improve your at-home oral hygiene and may also recommend preventative treatments. Such as sealants, if you lead an active lifestyle, you can be fitted with a custom-made mouthguard at your dentist's office.
Restorative Services
When a problem is found, your dentist will ensure you get timely and appropriate treatment. Probably the most common dental restoration involves removing tooth decay and placing a filling, in the affected tooth. But that is not the only restorative procedure general dentists provide. They offer you a place to go when you need prompt treatment for dental trauma—for example, a broken, loosened or knocked-out tooth. General dentists can diagnose and treat the causes of tooth pain or periodontal (gum) disease. They may also offer treatments for missing teeth, place crowns or bridgework, and help you get fitted with dentures. Some provide more advanced treatments, such as root canal therapy, orthodontics, and dental implants, as well.
Overall Health Concerns
In many respects, your oral health can be seen as a mirror of your general health. Some dental problems may reflect issues in other parts of your body and vice versa. For example, untreated oral infections can lead to poorer control of diabetes, an increased incidence of cardiovascular disease, and complications during pregnancy. General dentists are trained to identify these and other issues and offer appropriate treatment or referral when needed. One special concern is Obstructive Sleep Apnea, a potentially deadly condition that can sometimes be treated with an oral appliance. General dentists can also offer nutritional counselling, advice on tobacco cessation and general health and wellness information.
What Is General Dentistry And What Dental Problems Does It Treat?
SmileCare Plymouth General Dentistry is responsible for solving the primary problems that have to do with the mouth, teeth and other related structures. It represents, in most cases, the initial contact of the patient with the dentist.
The dentist usually makes the primary diagnosis of the patient, solves the problems of caries restoration that may occur and accurately channels it to each specialist according to the patient's need.
Dental caries is the destruction of the tissues of the teeth caused by the presence of acids produced by the plaque bacteria deposited on the dental surfaces.
A detailed examination will detect the presence of white chalk spots (areas where there is no enamel) or brown, which will be radiographically manifested as areas of radiolucency.
The treatment that helps to solve cavities is the cleaning of caries and the subsequent filling of the resulting hole with a filling (filling or covering) of amalgam (metallic colour) or composite (white colour), although if caries affects. The pulp chamber (nerve) of the dental piece will need to perform an endodontic treatment.
The main treatments performed by our SmileCare Plymouth General Dentistry are endodontics, placement of splints to control dental bruxism (habit of clenching or grinding teeth), dental extractions, fillings, inlays, reconstructions of dental pieces with crowns (ceramic or metal-ceramic) ), fissure sealing, etc. to improve the quality and smile of the patient.
The General Dentistry is responsible for solving the primary issues that have to do with the mouth, teeth and other related structures. It represents, in most cases, the initial contact of the patient with the dentist.