£
Plymouth
01752 663239
Smile Care Cosmetic Centre
"I am so happy I went to Smile Care Cosmetic Centre, the staff were welcoming and friendly, Dr Rafal Topolski was excellent he explained everything in detail and put me at ease for my new dentures I am so happy with them I can smile now with confidence, I highly recommend."
SmileCare Plymouth Dental and Dentures
Replacing any missing teeth improves your smile, can make you look younger and more attractive and can also improve the variety of food you can eat. This can lead to an overall improvement in your health as you are able to have a more balanced diet. Call SmileCare Plymouth Dental and Dentures Clinic for a free quotation today.
Dentures are removable replacements for missing teeth typically made out of an acrylic resin which may incorporate porcelain or metal for additional structural support.
Another benefit is they help strengthen muscles controlling your expressions and improve pronunciation problems.
Our products range in price depending on the material used and their technical complexity, from industry-standard acrylic through to advanced chrome-cobalt fixtures with precision attachments.
They are often the most affordable option for replacing several missing teeth.
All our dentures are bespoke and finely crafted by Clinical Technicians who are registered with the General Dental Council. We only work with dental laboratories that use the highest quality materials and our products are accredited.
Three types of dentures are available at Smilecare:
Overdentures (placed over natural teeth or over dental implants)
Partial dentures (when some natural teeth remain)
Complete dentures (when all the teeth are missing)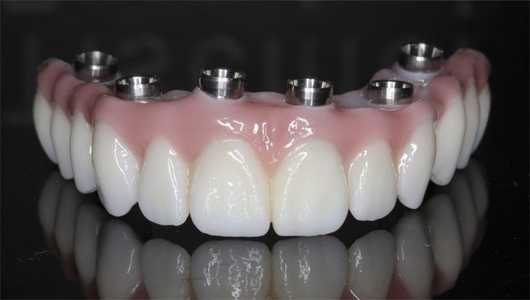 SmileCare Plymouth Dental and Dentures
Our teeth accumulate damage over the years and, there are times when there is no other choice but to opt for dentures.
With the arrival of a certain age, our teeth deteriorate, and even some pieces or the complete dentures are lost and not even white fillings can help. However, this should not worry you, since, with the advancement of dentistry, there are increasingly better substitutes for these dental losses.
Within the world of dental prostheses, we can find several types, depending on the needs of those who will receive the transplant. There is also a catalogue to adapt to any type of pocket so that the lack of money does not constitute an obstacle for your dental health.
Types of dentures
To deal with the problems that may arise from the loss of dental pieces, there is no single solution, but, depending on the state of your mouth, you can find different dental options.
One of them is flexible or metal prostheses. These are recommended for those patients who keep some pieces in their mouth but have lost many others. It consists of a prosthesis in which parts of the denture are added and not a complete denture. For their support, they rest on the teeth that the patient continues to have, so it is very comfortable and discreet support.
Another type of dentures is conventional or much-supported dentures. These are the ideal prostheses for those who no longer have teeth. It is held by the so-called empty effect generated by the dentures and the palate, although this occurs only in the upper jaw. In the case of the lower jaw, the prosthesis must be fixed by a special glue.
Finally, there are fixed on implants or implant-supported prostheses. This prosthesis is also recommended for those patients who lack all their dental pieces, only to solve this, in the case of this type of prosthesis, implants are placed in the mouth of the subject to hold it.