SmileCare Plymouth Dental Bridges
Fixed dental bridges replace one or more missing teeth by fusing false teeth to crowns that are fixed to teeth on either side of the gap. Fixed bridges cannot be taken out of your mouth as you might do with removable partial dentures.
Bridges improve the health and beauty of your smile by reducing the risk of gum disease, correcting your bite and even improving your speech.
With proper care and regular check-ups, bridges should last for between 10 and 20 years.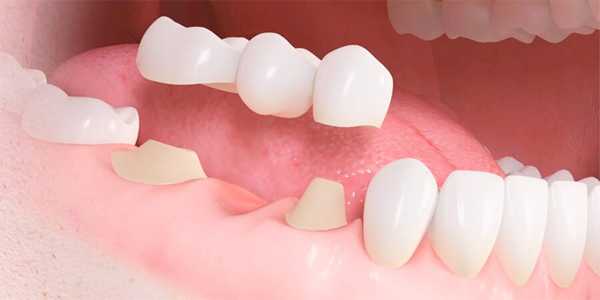 SmileCare Plymouth Dental Bridges
We offer a range of bridge restorations including porcelain, gold and ceramic.
The most common type of bridge we use at Smilecare is the conventional fixed all-porcelain bridge, the most natural-looking dental restorations available.
They look and feel much like your own teeth because the colour of the restoration can be easily matched to your natural tooth colour. They resist stains, retain shading and are durable so they will look as good in years to come as they do when you leave our practice.
Bridges traditionally caused damage to healthy supporting teeth, but due to advances in materials, the preparation of these teeth to support all-porcelain bridges no longer requires the removal of healthy tooth structure.
Which is better: an implant or a bridge?
If we were to generalize, we would say that implants are always a better option than bridges. However, in terms of health, it is not convenient to generalize. Some people decide to put on a dental bridge, as they are an excellent alternative to implants. Therefore, we will say that the choice will depend on the case of each patient, their needs and the aspects to which they attach importance.
If you have missing teeth and would like to discover how a dental bridge could transform your smile into a picture of health and beauty call 01752 663 239 or email smile@smilecareplymouth.co.uk to arrange an appointment with one of our dentists.
Dental Bridges
A dental bridge is a structure composed of a set of crowns, and that serves to simulate the shape of several teeth. Said bridge is fixed by a dental cement on the natural parts that the person who carries it has. When performing a procedure to fix a bridge, it is essential to carve the adjacent teeth, as the crown is placed on top of them. Therefore, to overlap it, it is necessary to reduce the size of these teeth, called abutments substantially. Since the structure is cemented, it is permanently attached to the patient's mouth, so it is usually referred to as a fixed dental bridge. This means that a general dentist can only remove the bridge. Depending on the needs of each patient, it is possible to choose between different types of dental bridge.